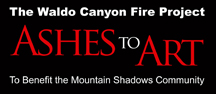 The images below are of paintings and mixed media pieces for my "Ashes to Art" project that I produced to ultimately show gratitude and help my neighborhood in Colorado Springs.
Mountain Shadows lost 347 homes and two residents in the Waldo Canyon Fire in June 2012, the most destructive fire in Colorado history. These works, that incorporate the charcoal and ash found in my yard and neighborhood, initially were for my own emotional therapy. Then, they became a way that I could use my skills to thank the firefighters and police officers and also to help my neighbors who lost everything.
Many pieces are made on reclaimed doors as a symbol of Mountain Shadows rebuilding and community strength.
Full profits from auction sales of this series will go to the Colorado Springs Together organization who are helping with the Mountain Shadows rebuilding efforts.
Below are links to stories and articles that have helped get the word out on our project.
- Steve